This month, I've been experimenting with several different techniques, many of which I am still learning a lot about and will write about in the future. However, one habit that I have formed this month that I have found profoundly useful has been time logging.
The Search for the Perfect App
I first got the idea after reading Asian Efficiency's post on time tracking. I tried out their suggestion of using Toggl, and found that it was not quite suited for my needs. I had used Gleeo Time Tracker, but again was not fully satisfied with it.
The problem with most time logging apps which I tried out were that they were designed for tracking billable hours. I was instead interested in measuring the amount of time I was spending on activities such as exercise, sleep, cooking, cleaning, and time wasted surfing the Internet. With a months worth of data, I could generate reports, and find what activities needed more time and what activities I needed to let go of.
Then I discovered aTimeLogger.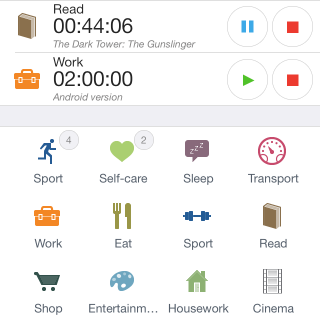 This is a handy little app (for Android and iOS). The more time I tracked with it, the more features I discovered (like Tasker integration!) and the more I found that this was what the next step in boosting my productivity needed.
The Two Best Features
Here are two few features that I especially loved about this app:
On-Device Reporting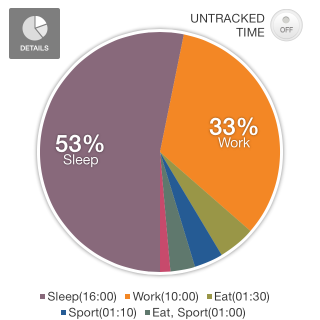 This is likely the biggest thing I like about aTimeLogger. You can see daily, weekly, and montly logs of all your activity, or compile data into bar charts, and see progress towards goals all right within your phone.
I am currently doing quite a few coding projects for different organizations, and I need to keep tabs on how much time I'm spending on each one. In aTimeLogger, I can create a category called "Work" and put an entry for each project in it. Whenever I am working on these projects, I simply tap the icon for that project, and when I finish, write a short comment on what I got done. When I am ready to submit my hours, I can go to the reports page and generate a list of all the time I was working on the project. I can export this data as CSV or HTML and send it directly from the app in an email.
This feature makes me happier than a kid at sea world who gets to pet Shamu.
Goals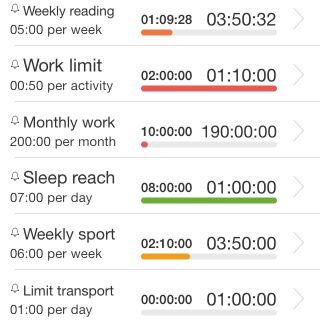 Within the app you can set goals for yourself. You can choose have your goal be to do a set of certain activities for a certain amount of time over a given period (or indefinitely), which can also recur. Or, you can try to put limits on certain activities.
Currently, I have two goals: to spend 56 hours per week sleeping, and to spend 8 hours per week completing items on my Impossible List (I will write about this in a future post). Checking everyday on my progress in these regards is a wonderful way for me to keep myself motivated
---
There are many other reasons why I would recommend the app, but I'll leave that to review sites like AppUnderdog. I'll just close with a few remarks about what I've learned from a month of time logging:
Increased Accountability
It's a temptation for me to come back from work and sit down at my computer and waste time reading blogs. But I know that I shouldn't because my "Internet" activity is housed under a skull-and-cross-bones "Excess" category. The more time I spend on the Internet, the more this category increases in my pie chart.
When I first installed the app, I knew that I needed to be more intentional with how I spend my time on the internet. According to my records, I spent 43 hours on the internet this last month, which is still horrendous but I know for sure it is an improvement over the last month.
The greatest benefit I get actually doesn't come from the big chunks of time as it does from the small chunks of time. For example, when I arrive early to work, and have a few minutes to kill, I try to avoid tapping the "wasted time" or "unmanaged" or "internet" activities. Instead, I do my best to plan my day so I am doing something productive during those small times. Forcing myself to be accountable to time tracking software encourages me to plan better.
Better estimates for the future
How long do I sleep on the weekend? How long does it take to walk to work? How much time do I spend answering emails every week?
I know the answers to these questions because I can just search through my log and compare my recent entries. So when I have to sit down and plan my day, I am less likely to underestimate the amount of time it takes to do a project.
The wow factor
One of my students asked me a few weeks ago a couple questions like "How long did it take you to grade our tests yesterday?" She was quite surprised when I was able to give her an exact answer down to the minutes, and back it up with data on my phone.
I think for anybody who enjoys being perceived as an organized person, doing time tracking is a wonderful tool simply for personal satisfaction :p.
---
Further fine tuning
This next month, I want to
become more faithful in inserting comments into all of my work, especially for the entries which will be reported to others
create a few more goals, and reward myself for achieving the most difficult ones (like 150 minutes of exercise/week)
experiment with Tasker integration
Thanks for reading, and please let me know what you think of this post (especially if you have had experience with time tracking in the past).